Golden Resort in Slovakia!
"Golden Resort" in Slovakia!
Classic stay in Turčianske Teplice Spa with aquapark
01. 05. 2018 – 23. 12. 2018
Basically, mineral springs of thermal healing water in spa Turčianske Teplice in Slovakia (sulphates, bicarbonates, calcium, magnesium, iron, etc.) has proven medicinal effects on musculoskeletal disorders, urological, neurological including multiple sclerosis and other diseases and gynaecological diseases. It has long been known that after two - three weeks treatment of adults and children are given good results.
CLASSIC SPA STAY from 7 NIGHTS +
Do you suffer from health problems? You are welcomed to recover here! A team of experienced professionals is expecting you and will do their best to help you.
A complex spa treatment stay focused on diseases according to indications of our spa. The recommended length is 2–3 weeks.
In the price of Classic spa stay includes:
• Accommodation
• Full board
• Medical examination/ consultation
TREATMENTS
Individual program includes 21 treatments based on physician's recommendations – thermal mineral baths, hydrotherapy, thermotherapy, electrotherapy, massages, light therapy, laser therapy, group and individual rehabilitation, etc.)
Gratis: free entry to Olympic swimming pool and to fitness center
VELKA FATRA 4* 
7 NIGHTS 
Out of season 
469 EUR in DBL room / 644 EUR in SGL room 
Season   
525 EUR in DBL room / 700 EUR in SGL room 
VELKA FATRA 3*
7 NIGHTS 
Out of season 
448 EUR in DBL room / 567 EUR in SGL room 
Season 
504 EUR in DBL room / 623 EUR in SGL room 
Price does not include spa tax 1€ + 0,05 € per person/night
Book 2 month before your arrival and receive 25% - 20 % discount
or
for stay from 14 nights
10% discount or free daily entry to the aquapark 
Season 
01. 05. 2018 – 30. 10. 2018
Out of season
01. 10. 2018 – 23. 12. 2018
Spa hotel Veľká Fatra****
"top level stylishness"
The most modern and luxury accommodation in the new part of the hotel according to your choice. Boarding and therapeutic procedures directly at the hotel.
Spa hotel Veľká Fatra***
"comfort you will enjoy"
Comfort accommodation and wide offer of provided services, including curative procedures that are accessible directly in the hotel without necessity to go out.
Spa Resort Turčianske Teplice offers wide range of healing, wellness and holidays stays.
You can choose some from several spa packages.


Description of the Spa and Pricelist 2016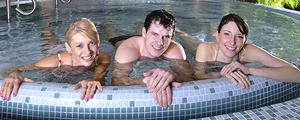 Spa in Turčianske Teplice is not only sanatoriums but the excellent place for relaxation and treatment in one place - excellent holiday for whole family.